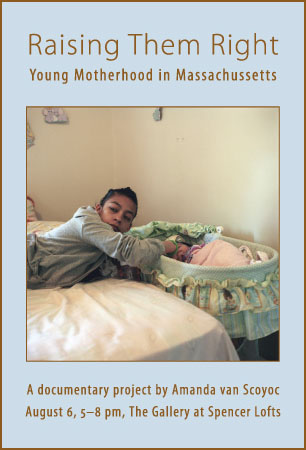 Roca, MGH and the Alliance for Teen Pregnancy are co-sponsoring the opening of Young Motherhood in Massachusetts, a community-based photography exhibit envisioned by Amanda van Scoyoc, which opens on Wednesday August 6th from 5-8 p.m. at the Gallery at Spencer Lofts. The event, "Raising them Right" is an exhibition of photos, words, and paintings made in collaboration with young mothers in Chelsea, Revere, Lynn and East Boston, documenting their experiences of pregnancy and motherhood. The Gallery at Spencer Lofts is located at 60 Dudley St, Chelsea, MA; the event is open to the public, refreshments will be provided.
Amanda van Scoyoc, the photographer, worked with Roca in Chelsea, MA to create the images for this exhibit. She is a graduate from the University of Pennsylvania '05, with a B.A. in Psychology and a minor in Fine Arts. For the last six years, she has worked on a variety of documentary projects both domestically and abroad that focus on reproductive issues and child raising. In the Spring of '07 she was awarded a Lewis Hine Documentary Fellowship from Duke University enabling her to develop this portrait of young motherhood.
Roca, which is celebrating its 20th Anniversary this year, is founded on the belief that it is unacceptable to lose so many young people to violence and poverty in our country. In the last twenty years, Roca has won nationwide respect and recognition for its effective and innovative approaches to helping young people live self-sufficiently and out of harm's way. Roca's vision is clear; young people will leave the streets and gangs to take responsibility for their actions and have jobs. Young immigrant mothers will raise their children in safety and be recognized for their contributions to society. Our communities will have the ability to keep young people out of harm's way and in turn, thrive through their participation and leadership.
The Lewis Hine Documentary Fellows Program is a project of the Center for Documentary Studies (CDS) at Duke University. Each year, Hine Fellows are sent to work domestically and abroad with local organizations to document humanitarian issues over the course of ten months. They then return to work with documentarians at CDS to continue to develop their projects. The Lewis Hine Documentary Fellows Program is supported by the Philanthropic Initiative and the Jessica Jennifer Cohen Foundation.
MGH Chelsea offers primary care for children, adolescents, and adults and has specialists in obstetrics, gynecology, cardiology, neurology, hematology, oncology, geriatric medicine, rehabilitation medicine, occupational health, and mental health. MGH Chelsea recently expanded and now offers Chelsea families additional medical services during longer, more convenient hours than ever before.
Founded in 1979 as the Alliance for Young Families by eleven Boston-area agencies seeking to improve teen parent services, the Massachusetts Alliance on Teen Pregnancy is the ONLY organization in Massachusetts dedicated to ensuring that state policies and programs effectively address the complex issues associated with teen pregnancy. The mission of the Massachusetts Alliance on Teen Pregnancy is to provide statewide leadership to prevent teenage pregnancy and meet the service needs of pregnant and parenting teens and their children through policy analysis, research, education, and advocacy. The Alliance works to ensure that Massachusetts' youth have access to comprehensive pregnancy-prevention services and that pregnant and parenting teens and their children have the resources and support they need to thrive. Our means for achieving these outcomes are to educate, empower and support young people and the adults who work with them to become leaders on the issue of teen pregnancy prevention and the needs of young parents.