Me and Eli loving Durham. (Photo by Margaux)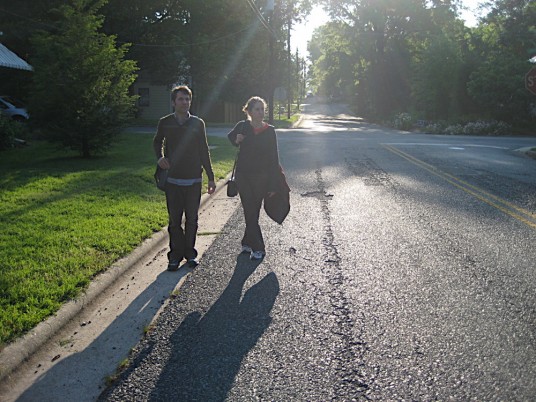 I spent the last couple of weeks in April down in North Carolina trying to figure out how to print the medium format photos for the upcoming exhibit. Alex Harris (a photographer and much appreciated mentor) was wonderful and helped me and another fellow, Margaux Joffe for a week straight.
I am always surprised by how much technical knowledge it requires to be a "documentarian." I found myself a bit overwhelmed by all that is necessary to get a perfect scan and then a perfect print. I think this is one of the reasons that I have shied away from video – there is still an incredible amount to learn about photography, not to mention audio recording. I don't even want to think about video right now.
At the beginning of this fellowship I felt like I was playing photographer all the time. I certainly did not feel like a photographer and truth be told I had no idea what I was doing a lot of the time. I remember sweating under the stress of taking photos in the girl's homes the first couple of times. I was a nervous wreck. The first time I went on a home visit with one of the staff and had to take photos with everyone watching, I got a migraine right after from the stress of the ordeal.
In the past couple of months I have finally become completely comfortable with the Hasselblad. I also have become comfortable with calling myself a photographer – something I would never have done even 3 months ago. I have a lot more confidence that the camera isn't going to destroy the film and that I'm not going to destroy the camera. I find myself enjoying the photoshoots a lot more – although they have also become a bit more predictable.
Photography is so technical. (Photo by Margaux.)

Me and Desiree during a photoshoot. (Photo by Desiree's son Marcus.)