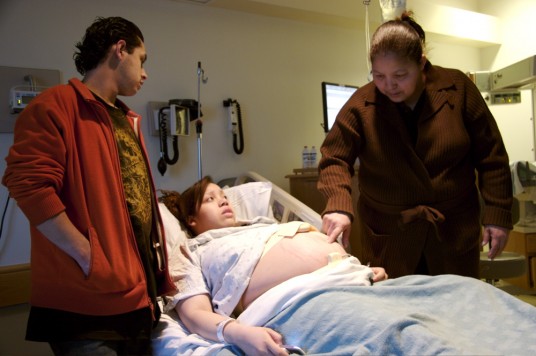 At 3:05 PM yesterday, after almost 30 hours in the hospital, Damaris gave birth to 8 pound 7 oz Andrea Isabella. I was fortunate enough to be there with Damaris from when they induced her through the birth until when her extended family showed up to meet a peaceful Andrea and an almost unconsciously exhausted Damaris.
In the afternoon when they induced Damaris, we were all excited. The monitors showed that she was having contractions, but she didn't feel them. For a few hours she was dilating, contracting, and in no pain. It was delightful. At night, Damaris' mom left. Andres (Damaris' fiance), Damaris and I were left alone for the night. It felt a bit like a sleepover and for a moment I actually thought "the three of us together all night… this is going to be really fun." We had cots and blankets and an endless supply of drinks and popsicles. We watched TV, set up and talked excitedly into the video camera… and then the pain came.
With Damaris in constant pain, it was hard to feel a part of it at times. Pain is disillusioning. It is impossible to understand another's pain and it is so difficult to even describe. Without it's own vocabulary, pain must be explained by similes, (As the nurse asked, "Is it like a bowling ball in your bottom?") Fighting my own sleepiness, I was aware of Damaris' pain, but I am quite sure that Damaris was more aware of my lack of pain.
During the night it got worse and then better and then worse as she slowly dilated. We weathered the night and then the morning with Damaris on heavy painkillers. Around 2PM she was finally 10 centimeters and the pushing began.
In this small room watching the baby pulse closer and closer to the opening- there was no embarrassment. It was easy to become so wrapped up in the pulsing as to forget that this struggle in the end was Damaris' alone. During the course of pushing Andrea out of her, Damaris had her moment of complete exhaustion and demanded for it all to stop. Her mom said over and over on top of Damaris's pleas and through her own tears "Tu Puedes, tu puedes, tu puedes." Andres showed me how his hand was shaking. I walked away with tears and fiddled with my camera. Damaris is one of the strongest women I know – and to see her in such pain was overwhelming.
With out hands wrapped around hers and our arms pulling her legs back we were still only outsiders watching the greatest miracle of life. With Damaris exhausted and the baby's head only inches away (it's black tuft of hair peaking through) we could not convince her to go on and we all broke down (all except for the nurse who kept up her cheers of "you can do it Damaris, you can do it.") After a few minutes, she regained composure and decided that she was getting the baby out as quickly as possible. And within 10 minutes Andrea emerged as the doctor pulled her head out with surprising force. She was blue and still until that first breath, and then she sprawled her arms, grasped at the air, turned pink and sobbed.
At the hospital, it was hard to know what to tell people I was. We said that I was a friend and that I was videotaping. I came carrying a huge tripod, a medium format camera, a 35 mm camera, a digital camera and a video camera. I had to explain over and over why I had all of the equipment and what we were doing, and how I knew Damaris. At times I questioned my own intentions.
During the delivery, at one point I heard Damaris' nurse inform Andrea's nurse of who was in the room. She said, "the patient's boyfriend, the patient's mom and her best friend," for a quick moment I felt that that we had fooled the nurse. But thinking about it, besides my boyfriend, I am as close to Damaris as I am to anyone else in Boston (and she's the only person whose portraits hang in my living room and bedroom.) In a strange way, I am much closer to the girls I work with than I was to very good friends in college.
When I started this fellowship, I never expected that these kinds or relationships would be a byproduct of documenting lives. Asking personal questions of one another over the course of a year – isn't that basically what being a friend is? Shouldn't I have known? Sometimes I think that without documentary work, I could never be this close to these girls. Without the excuse of photography, I would never have asked to enter their homes, know their children, meet their parents, cook with them, and be a part of their everyday lives. I certainly would not have been there with Damaris the moment Andrea arrived.
After Damaris gave birth her mom said to me in Spanish while holding little Andrea, "I only hope that Damaris and I can be there when you go through this. But, you should do it soon." I smiled not really having the skills to respond well enough in Spanish.