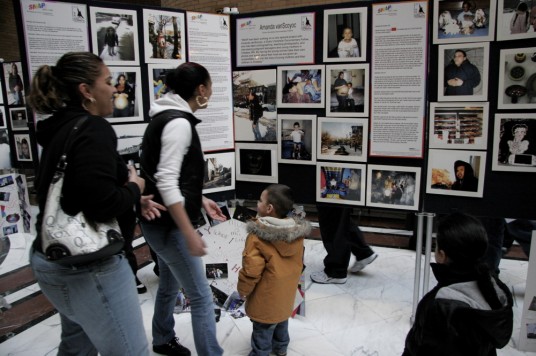 Last night Project SNAP had an exhibit of student's work at the Massachusetts State House. I went to the exhibit along with Jackie (one of the moms involved and our competent driver,) Roxannie and Naisha, Desiree and Marcus, Karen and Tommy and Xexeil. I did not really know what to expect- but the exhibit was incredibly well done.
To show off the student's photos SNAP Foundation rigged a movable wall out of PVC pipe, fiberboard and carpet. They laminated photos onto mat board then put Velcro stickies on the back of the pictures to stick them to the carpet wall. SNAP foundation is almost exclusively run by retired men who have never taken a photography class. After years of contemplating and changing the exhibit design, they created this interactive, easy to set up, and easy to take down design. I really don't think a professional photographer would ever think of a PVC and carpet wall. I love it when people who have worked in different fields bring their knowledge to a new field.
The SNAP Foundation has given Roca over 100 single use cameras (as well as developing costs) this year. These cameras have allowed me to teach photography and have an unparalleled look into young parents' lives. They have also added great excitement to our Thursday meetings (each week the first thing we do is talk about the new photographs.) SNAP foundation has made my fellowship much more successful, and it has allowed me to teach photography without scrambling for supplies.
One of the highlights of the exhibit was that they chose a photo of Xexeil (a young man I have been teaching photography/Photoshop to one on one) as their SNAP photo of the year. His photo was everywhere – on the handouts, wall, as a header to writing… He was also given a plaque commemorating his achievement with SNAP.
The other highlight was that at the end of the night we got to rip all of our photos off of the wall (Tommy, Naisha, and Marcus loved this) and bring them home. I'm sure we will find a nice place at Roca to continue to display these photos.