Below is a transcription of an interview I did last week with Roxannie. During the interview she was very excited to talk on tape (she talked quickly and transcribing was a nightmare.) I have become quite close to Roxannie and she was willing to talk very honestly about her experiences as a teen mother. After we were done, she wanted to listen to the interview, so I put the headsets on her head and played back the tape. When it got to the part about her daughter's Dad, she began to cry but kept listening. When I finally took the headsets off she said, "It is really sad isn't it?" And I said, "yes, it's sad."
First a few of my photos of Roxannie and her daughter in their house. These are still raw and will soon be photoshopped.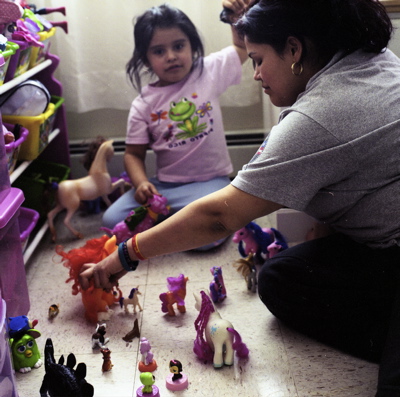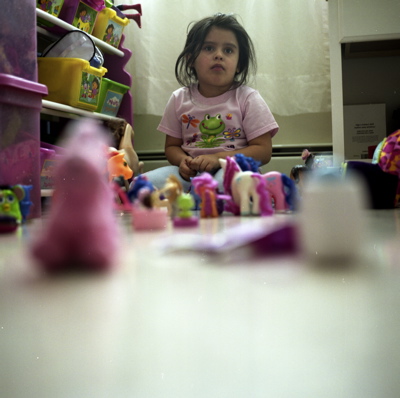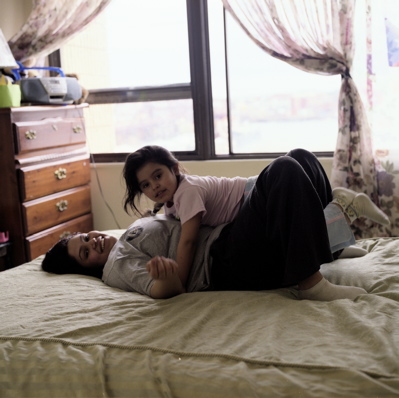 "R: So, my name is Roxannie and I'm 20 years old now. My daughter is 4. I had her when I was 15. Her name is Naisha. Um, Naisha is from El Salvador and Puerto Rico. I'm from Puerto Rico. Her dad is El Salvadorian.
A: Where were you when you found out you were pregnant? How did you feel?
R: I was thinking about it for like three days before I decided to go and get tested. I was thinking about it and I wouldn't tell nobody. I didn't even tell Alex that I felt like if I was pregnant. I was feeling completely different. I knew I was pregnant right away because it was a complete change in my body in my mood, everything. So, I was in school, I decided to go to the doctor because they have a clinic in the high school. I got tested right there. I just started crying, felt overwhelmed that I was pregnant. Didn't know what to think.
A: Did any part of you want to get pregnant?
R: It was a surprise, but I can't say that we didn't know that something like that could happen, because we weren't using protection on either side, and we lived in the same house, and we slept in the same bed. Like we knew something like that could happen, but we didn't prevent it. So, we weren't all that surprised. I was just overwhelmed by the news.
A: Do you remember when you first held Naisha and what you felt like?
R: Well, right after we came out of the C-section… I was immediately out… When I woke up, what I saw was I saw Alex changing her diaper… and I was like "oh that's my daughter, that's my baby" But just immediately you have this bond… Like she's not there no more. I'm not talking to the belly no more or trying to bother her. I used to poke my stomach just for her to hit back or something… and this time I was like touching her and it was nice.
A: How were the first few months with Naisha…
R: It just felt natural, and the doctors were surprised cause like I was only 15, but I didn't ask the nurses for any help, it was natural. I didn't have no complaints. I didn't ask for help. Like, I knew what I was doing it was something natural. That's how I felt.
A: What is your relationship with Alex like now?
R: I can't say it's a good relationship because really it's not. Before, when I tried for it to be a good relationship because of the baby and stuff like that, Alex used to hang out with Naisha because I was always pushing it like, "Hey, you gonna come pick up Naisha? Hey … do you want to have her in the afternoon?" and I would go drop her off… I stopped doing that about like a year ago, because I wasn't feeling me being after him all the time…
And I don't have anything against him you know, I treat him with respect… It's not a "Hi, how are you doing?" It's just a simple "Hi. Ok, you're taking her. Ok what time are you going to bring her back? She needs to eat. Make sure that she's covered, and I will call you to see when it's close to eight o'clock."
Like that's all.
…Naisha when she was three she was starting to create an imaginary figure of her father, and every single time she was in her room, she would come out and be like, "Oh Mom, I talked to Dad. Me and Daddy are going here, or me and Daddy did this." I knew what she was telling me wasn't real… she was going through a phase where her father and her weren't together as often or she didn't see him as much, so she was just creating an imaginary figure of him… That hurt me a lot. That hurt me so much and I told him and it was like nothing… But it's like whatever. You're not a good father so for me you are nothing. You are just Naisha's Dad. That's it. He's just Naisha's Dad.
A: Do you want to have more children and if so when.
R: Eh, well I had her when I was 15. I'm only 20. She's 4, I'm just about to finish my GED. I like what I'm doing… I want to travel with Naisha. I want to go to Africa and Europe with her. South America, and have this road trip in the States. I don't think anytime soon. I don't know when either. Now that I'm on my own… I don't know. Not having that other someone there, the father there for her, it's a lot harder for me. I don't think I want to go through this again… I want to adopt orphans. So maybe I'll just adopt orphans after I turn 25 or after I turn 30, and just you know give my love to other kids instead of having more kids. Who knows."
Here are some Roxannie's photos. The bottom one is of Naisha taking her asthma medicine.